October means ghosts, ghouls and all things ghastly for those who enjoy Halloween. So this month on Aussie Owned and Read we thought we'd tackle the frightening and scary in all its different manifestations.
I confess, I'm not a fan of scary. I won't be lining up to see the new remake of Stephen King's IT. Ever. I'm more of a Ghostbusters kinda girl. You know, where the ghosts and ghouls are tempered down with quirk or humour (and a dose of Chris Hemsworth). So here's a list of Halloween 'horror' novels for scaredy Kats like me:
The Life of a Teenage Body Snatcher by Doug MacLeod (Penguin)
Thomas Timewell is sixteen and a gentleman. When he meets a body-snatcher called Plenitude, his whole life changes. He is pursued by cutthroats, a gypsy with a meat cleaver, and even the Grim Reaper. More disturbing still, Thomas has to spend an evening with the worst novelist in the world.
A very black comedy set in England in 1828, The Life of a Teenage Body-snatcher shows what terrible events can occur when you try to do the right thing. 'Never a good idea,' as Thomas's mother would say.
I read this wacky Aussie historical when it was first published seven years ago. It's got its share of the macabre but it's not exactly scary. There are plenty of laugh-out-loud moments as well as gross bits. Not one for the squeamish, but heaps of fun.
2. The Dead I Know by Scot Gardner (Allen & Unwin)
You wake in the middle of the night, your arms and feet pinned by strong hands. As you thrash your way to consciousness, a calm voice says, 'Steady. We're here to help.' Your mind registers a paramedic, a policeman, an ambulance. You are lying on the lookout at Keeper's Point, the lookout Amanda Creen supposedly threw herself off. And you have absolutely no idea how you got there.
Aaron Rowe walks in his sleep. He has dreams he can't explain, and memories he can't recover. Death doesn't scare him – his new job with a funeral director may even be his salvation. But if he doesn't discover the truth about his hidden past soon, he may fall asleep one night and never wake up.
The Dead I Know is an intense psychological thriller, but it also fits a Halloween theme nicely because the protagonist Aaron works in a morgue. Interestingly, it's not the dead people who he needs to be afraid of most.
The Reformed Vampire Support Group by Catherine Jinx (Allen & Unwin)
Nina became a vampire in 1973 when she was fifteen, and she hasn't aged a day since then. But she hasn't had any fun either, because her life is so sickly and boring.
It becomes even worse when one of the other vampires in her therapy group is staked by a mysterious slayer. Threatened with extinction, she and her fellow vampires set out to hunt down the culprit. Trouble is, they soon find themselves up against some gun-toting werewolf traffickers who'll stop at nothing.
Can a bunch of feeble couch potatoes win a fight like this? Is there more to being a vampire than meets the eye?
I love me a good vampire spoof and this book delivers. Not only does it provide a hilarious alternative addition to the vampire genre, it's got romance and action to boot!
Gap Year in Ghost Town (Allen & Unwin)
The Marin family run a two-man operation in inner-city Melbourne. Anton has the ghost-sight, but his father does not. Theirs is a gentle approach to ghost hunting. Rani Cross, combat-skilled ghost hunter from the Company of the Righteous, is all about the slashing.
Anton and Rani don't see eye to eye – but with a massive spike in violent ghost manifestations, they must find a way to work together.
And what with all the blindingly terrifying brushes with death, Anton must use his gap year to decide if he really wants in on the whole ghost-hunting biz . . .
I am yet to read this, but it looks PERFECT for horror-cowards like me. According to the publisher it's smart, snappy and funny. And scary. It DOES say it's scary. Still, the cover alone might be worth the risk.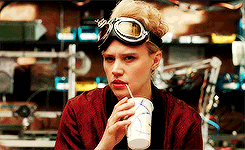 What are some of your favourite scary – or not so scary – Halloween reads?
---
Kat Colmer is a Young Adult author and high-school teacher librarian who writes coming-of-age stories with humour and heart. She lives with her husband and two children in Sydney, Australia. Her debut YA The Third Kiss is out now with ENTANGLED TEEN and is definitely more swoony than scary. Learn more on her website, or come say hi on Facebook, Twitter and Instagram!