At the end of August I had the pleasure of meeting another fellow self-published author, and not only does this author write YA fantasy, she also lives around twenty minutes away from me! I was so excited when Selina Fenech agreed to an interview. She is an amazingly talented artist and writer. Here's what she had to say:
You have two YA series, the Memory's Wake Trilogy, and the Empath Chronicles, as well as several art books published. Tell us a bit about yourself, your art, and your books.
I love creating fantasy worlds, and have been doing that through art and illustration for ten years professionally now. But sometimes I can't tell enough story in a picture alone, and so I've started writing novels as well. My Memory's Wake trilogy is a strange genre mash up of fantasy (magic, dragons, and fairy creatures), a modern main character, Arthurian mythology, and a pre-industrial revolution semi-Victorian era world. The main character is thrown into this world, Avall, with no memories, but with a very important role in the lives of the other characters in Avall, the politics and ruling of Avall, and the very existence of it. It's a story full of action, angst, and twists.
You obviously have a love of all things magical, evident in your beautiful artworks. What draws you to the fantastical worlds of fairies, unicorns, dragons and so on?
It started with fairytales and mythology books. My parents had a lot of those in the house for me to fall in love with. I think another huge influencer was a friend of my parents, who ran games of Dungeons and Dragons for me, my brother, and his own girls from quite young ages. Through those games I learned of storytelling, companionship, magic, adventure, fantasy creatures and realms. There are few better ways to set your imagination free! Role playing games are still a huge part of my life, and once that sense of adventure and magic takes hold within you, it's hard to let go of.
Do you have any formal art training, or are you just a natural?
My formal training is in Graphic Design rather than illustration, although I tried to take a couple of subjects in drawing during the course. Actually I would say neither formally trained or a natural. I'm just persistent! Lots of practice and constantly self-teaching and seeking ways to improve my work.
What challenges did you face when you decided to 'trade pictures for words'?
I basically had to learn to write again from scratch. The only writing training I'd had was high school level, which was a long time ago. Even simple things like how to punctuate dialogue were things I had to relearn. I workshopped my first novel extensively and had a massive learning curve and made sure I got everything right (as much as anything can be "right" with fictional writing).
There are forty-four illustrations in Memory's Wake, as well as the cover. How long did it take you to write, illustrate, and publish it?
From the initial conception of the characters and story, about nine years! I first started developing the world and characters in 2001, and it wasn't until 2010 that I published Memory's Wake. There was a long gap in between there where the first, very terrible, draft sat in a draw, only to be brought out and looked at nostalgically, dreaming of turning it into something "real". When I finally decided I would stop dreaming and get it finished, it took eighteen months to completely rewrite, workshop, edit, illustrate, and publish the novel.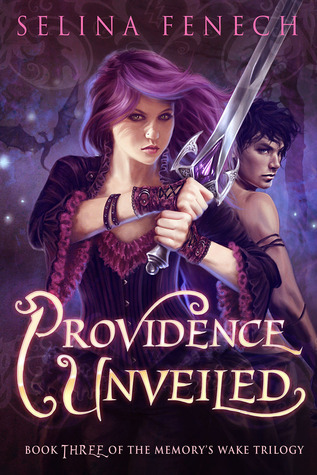 When can we expect the final instalment of the Memory's Wake Trilogy, Providence Unveiled, to be released?
I'm aiming to have it out around Christmas. Progress on the trilogy slowed drastically this year, due both to the ever increasing demands of a toddler, and a business decision to focus more on my art which you can read the long story about HERE.
Tell us what you like to read. What do you currently have at the top of your TBR?
I have a lot of author friends, so my TBR list is normally filled with their books! The books I most love to read of course are fantasy, paranormal, dystopian, and light horror (ghost stories!). I prefer urban fantasy to epic, and prefer Young Adult voice and style over Adult books.
What is your writing process? Do you set aside designated writing time each day?
I like to write in blocks, so try and set aside at least half a day or full evening to work. The absolutely hardest part of writing for me, is starting. It's all psychological, but I put off just opening my word document for the longest time, but once I do, it's easy from there on!
What can we expect to see from you in the next year in terms of your writing and your art?
Memory's Wake will be finished, but I will be releasing one more book for that trilogy – an art collection showcasing the images from all three books for those who read in ebook, but still want hardcopies of the illustrations. I'm hoping to continue the Empath Chronicles, but have lots of other story ideas as well I've been dying to work on. Writing will still be my secondary interest and the focus will be back on art again.
Quick!
Heels or flats? Flats, heels just for special occasions.
Coffee or tea? Tea, English breakfast is my main addiction. I only drink coffee if I smell people around me drinking it. It's sensory peer pressure.
Black or white? Grey. I love everything in balance with a little light and a little dark.
Summer or winter? Winter. You can always put more clothes on but there's only so many you can take off!
City or country? Country. My husband is a city boy, but if I had my way we'd be off the grid, living off the land. But somehow still with internet. Could never live without that.
You can stalk Selina at the following links
Website | Facebook | Goodreads | Etsy | Fairies & Fantasy
K. A. Last is the YA author of Fall For Me, Sacrifice and Immagica. She drinks lots of tea, is obsessed with Buffy, and loves all things pink. K. A. Last hangs out on Facebook or you can find her on twitter and Goodreads. She's also been known to blog once in a while. And yes, she has cut all her hair off!